Press Kit
Whether you're a member of the media or a reader in search of more information about Jennifer, feel free to download the Press Kit provided here. The kit contains useful information about the author and the book Love Incorporated, reviews, press releases, links to articles and interviews, potential interview questions and topics, contact information and approved publicity images and artwork.
If you would like Jennifer to be on your show, please contact TJ Tauriello, Publicist at
tj.tauriello@gmail.com or 818-919-5580.
Love Incorporated Press Kit
8 MB ZIP compressed file containing Press Kit PDF and publicity images and art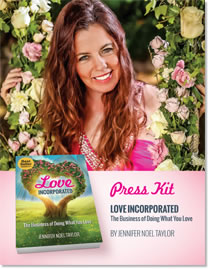 Media Appearances
Upcoming Appearances
Quantum-Touch Radio
Coming Soon! July 3rd at 11 AM PST
https://www.transformationtalkradio.com/host/jennifer-noel-taylor,234.html
Past Appearances
Quantum-Touch Radio Show Archive
Coming Soon!
For my newsletter
Receive news, updates and other fun stuff from me to your inbox.